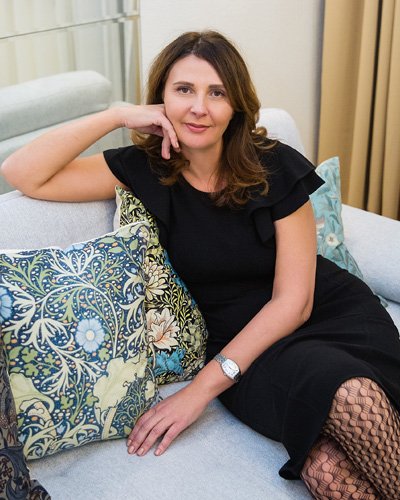 Natali Amirejibi de Pita
Co-Founder
Natali gravitated towards painting at a very early age. By the time she received her Master degree from the Tbilisi State Academy of Fine Arts, her works had already been exhibited in Georgia, Latvia, Bulgaria, Mexico, France, Italy, Spain, the United States, and Russia.
In 1995 the artist was invited to residence at the Cité Internationale des Arts in Paris. Later she had entered a design school Creapole, where Natali studied at the interior design faculty for a year and finally she enrolled at the Sorbonne where she was awarded a License en Arts Contemporains et Sciences.
In 2001, Natali moved to Switzerland. She has owned her own art gallery, Lepic, in Lausanne.
In 2007, Natali de Pita was invited to be a part of a big construction project: the new Presidential Palace in Georgia. For the next two years she was concentrating on the most involved project of her professional life thus far: "A Walk Through History" encapsulating the entirety of Georgia's complicated and colorful history. Natali personally conceptualized the whole thematic idea and designed the mosaics.
In 2010, Piazza mosaics floor with a total of 106 sq. m. in a form of a medallion have been created for one of the central squares in Batumi city. The mosaics depicting figurative motives in the middle surrounded with decorative ornamental motives. This particular work is the biggest figurative marble mosaics in Europe.
Natali carried out another monumental project on the main square of Batumi in 2012. In close collaboration with Travisanutto Mosaici she created two mosaic façade panels.To this day Natali de Pita lives and creates in Tbilisi,Georgia. She takes interest in other affairs such as: oil painting, graphics, interior and custom-made designs.
Lusine Bardon
Co-Founder
After receiving a master's degree in biotechnology and microbiology (1993), Mrs. Bardon became a research fellow at Yerevan State University. She holds a PhD in research and development at UNIMAN, Grenoble.She arrived to Georgia with her husband in 2003.Mrs. Bardon was admitted as an auditor in 2009 to the National Institute for Advanced Studies in Security and Justice in Paris (INHESJ), 21st National Session – Security and Justice.At the end of this period, there comes a taste for social affairs:In 2007, Lusine became a member of French political party – Union for a Popular Movement (UMP)
In 2010, she created a local section,
In 2011, she became the Temporary Commissioner for UMP in Georgia,
In 2013, she created the Georgian Representation of the Union des Francais de l'Etranger (Union of French Abroad) – UFE-Georgia. Mrs. Bardon is the president of this association in Georgia. The association was founded in 1927 and has been striving to protect the interests and rights of the French citizens residing abroad since day one. It is important to note, that UFE does not involve itself in political or religious matters and its sole purpose is to support and help people. 
In 2014, she was elected with over 60% of the vote as a Consular Adviser for French citizens residing in Georgia and Armenia. Now as a Consular Advisor she represents French citizens, hears out their problems and takes care of the social and educational issues.
In 2015, she was appointed interim representative of the French political party "Les Republicans" (former UMP) in Georgia and Armenia.
Throughout this period, she took part in the reception and installation of her compatriots, organized numerous meetings. She organized several events with the French Chamber of Commerce in Georgia to socialize the French community in order to contribute to the cultural and economic influence of France in Georgia. With the help of French parliamentarians, she supported French International schools in Tbilisi and Yerevan. She is engaging in different fields of work in Georgia. Among them is the project of the Embassy of France with the participation of the French Chamber of Commerce and Industry in Georgia (CCIFG) in Georgia, which she considers an investement for future – there is completed project through which it is possible to study French at public schools in Tbilisi.
Together with the Association of French-speaking Mayors, she helped to finance a stone carving school to preserve the historical heritage of Tbilisi. This sparked interest in Georgian mosaics, which Lusine began to study carefully. Throughout her presence in Georgia, she has actively contributed to the establishment of cultural ties between France and this country.
Holder of the Order of Honor of Georgia (Certificate N 08063) in 2013.
Holder of the French National Order of Merit (chevalier) in 2017.
Irina Kocak
Co-Founder
Mrs Irina Kocak graduated from the Institute of Oriental Studies of the Russian Academy of Sciences, Moscow, Russia with a the Diploma of Specialist in Asian History.
In 1994 – 1999, she worked as an educational programs specialist at the Academy for Educational Development Moscow / NET Project – a nonprofit organization that implemented USAID-funded training programs for the public and private sector of organizations in Russia. The goal of the training was to create leaders with the knowledge and technical skills needed to create policies, programs, and institutions for the transition into a democratic governance and free market economies.
From 2006 to 2016, Irina held senior management positions in the Austrian jewelry house, Frey Wille, founded in 1951 by the artist Michaela Fry and famous worldwide for her unique enamel jewelry combined with precious metals. The philosophy of the jewelry house is a love of art, and the inspiration for the collections are works of art created by great artists such as Gustav Klimt, Claude Monet, Friedensreich Hundertwasser, etc. Irina started her career at the company as a director of a boutique in Kazan, Russia, then as a general consultant at the opening of a boutique in Istanbul, Turkey, and then the general director at the company's representative office in Georgia.
Mrs Kocak has been living in Georgia with her family since 2008 and owns her own retail business.
In 2012, due to being an apt traveler, Irina was asked to write a special travel report for EGO magazine about her safari in Africa. Although this was meant to be a one-off request, Irina became a regular columnist for EGO Travel Advice and continued sharing her stories in more than 20 issues of the magazine until 2015.
She is a board member of the International Women's Association Georgia (IWAG). IWAG was founded in 1996 by a small group of expat and Georgian women living in Tbilisi. Their primary aim was to welcome new members of the diplomatic missions and expats coming to Tbilisi, help them settle in this beautiful city and introduce them to the rich culture of Georgia by organizing social and cultural activities. In the following years, it has expanded the scope of its activities and become a prominent association in Georgia that contributes to efforts and activities in the fields of education, health and culture.
Mrs Kocak became interested in historical ceramic tiles and mosaics, especially from the Mediterranean region, even before moving to Georgia. Her love for the Georgian mosaic started with her first visit to the Mount Kazbegi and seeing a simple bus stop depicting scenes from an epic poem "The Knight in the Panther's Skin" by the famous Georgian statesman and poet, Shota Rustaveli. For 12 years now, Irina, on her own initiative, has been photographing and studying the history of Georgian mosaics.